One of the greatest defensive backs in University of Wisconsin football history is immortalized in the College Football Hall of Fame.
Troy Vincent, who played cornerback for the Badgers from 1988 to 1991, will be among the class of 18 players inducted into the Hall in December. He is the 12th UW player to earn a place in the Hall of Fame.
Vincent was a cornerstone on Barry Alvarez's first two UW teams (1990-91) and stood out despite the team struggling to win games. He finished his college career with 192 tackles, 31 passes defensed, four interceptions and three punt return touchdowns.
Vincent graduated with the UW record for passes defended in a season (13) and career. He had a stellar senior season in 1991 in which he was team captain and MVP, a first-team All-Big Ten pick and a first-team All-American. Vincent was inducted into the UW Athletics Hall of Fame in 2008.
He was drafted seventh overall by the Miami Dolphins in the 1992 NFL Draft, the highest draft pick by a graduate player under Alvarez. He played 15 years in the league and became the only player to win the Walter Payton Man of the Year award, the NFL Players Association's Byron Whizzer White award and the Sporting News Good Guy award.
Vincent served as president of the NFL Players Association from 2004 to 2008 and is now the NFL's chief football operations officer, a role he has held since 2014.
Here's a look at the rest of the College Football Hall of Fame Class of 2023: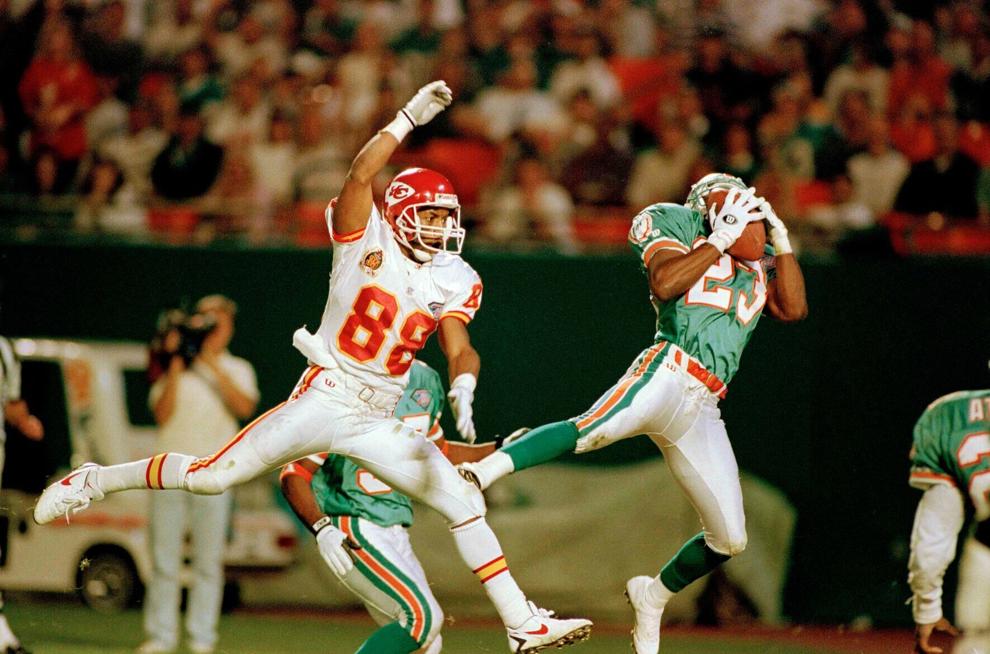 Players
Eric Berry – DB, Tennessee (2007-09)
Michael Bishop – QB, Kansas State (1997-98)
Reggie Bush – RB, Southern California (2003-05)
Dwight Freeney – DE, Syracuse (1998-2001)
Robert Gallery – OT, Iowa (2000-03)
LaMichael James – RB, Oregon (2009-11)
Derrick Johnson – LB, Texas (2001-04)
Bill Kollar – TD, Montana State (1971-73)
Luke Kuechly – LB, Boston College (2009-11)
Jeremy Maclin – WR/KR, Missouri (2007-08)
Terance Mathis – WR, New Mexico (1985-87, 1989)
Bryant McKinnie – OT, Miami [FL] (2000-01)
Corey Moore – DL, Virginia Tech (1997-99)
Michael Stonebreaker – LB, Notre Dame (1986, 1988, 1990)
Tim Tebow – QB, Florida (2006-09)
Troy Vincent – ​​DB, Wisconsin (1988-91)
Brian Westbrook – RB, Villanova (1997-98, 2000-01)
DeAngelo Williams – RB, Memphis (2002-05)
Coaches
Monte Cater-275-117-2 (70.1%); land of lakes [WI] (1981-86), Shepherd [WV] (1987-2017)
Paul Johnson- 189-99-0 (65.6%); Georgia Southern (1997-2001), Navy (2002-07), Georgia Tech (2008-18)
Roy Kramer – 83-32-2 (71.8%); Michigan Center (1967-77)
Mark Richt – 171-64-0 (72.8%); Georgia (2001-15), Miami [FL] (2016-18)
After Graham Mertz entered the transfer portal, I examined why the quarterback and the Badgers had never reached the heights once imagined.
I spoke with Braelon Allen for about 40 minutes during training camp and he shared more about his personal life and motivations than me…
I looked at the line the Badgers athletic department draws regarding NIL, and the fact that they might be in the minority doing it.
Bob Bostad is an old school footballer. This story provided insight into his plans for the UW offensive line and what it's like to be a coach…
Former Badgers football coach Paul Chryst was fired on October 2 not for a big deal, but for a series of small things. I examined what it was.