CHAPEL HILL, NC — If Coach Mack Brown has plans to make changes to his North Carolina football team on the defensive end of the ball, he's in no rush right now.
Brown said Monday he has yet to meet with defensive coordinator Gene Chizik and has considered a full-scale assessment of the Tar Heels defense from last season. He said most UNC assistant coaches attend the American Football Coaches Association (AFCA) convention in Charlotte, North Carolina, which began Sunday and ends Tuesday.
UNC held a staff meeting Sunday and a team meeting Sunday night, Brown said. As spring semester classes approach, the Tar Heels switch gears to off-season mode and winter workouts.
"So over the next two weeks," Brown said Monday. "There's no rush right now because we don't have any recruiting, and that's usually when you have to have some rush. I'll sit down with Gene I'm going to sit down with every coach and Gene together and then reassess exactly where we are and where we need to go.
UNC finished 9-5 last season, coming off a 9-1 start that included six straight ACC wins to clinch the league's Coastal Division title in mid-November. The Tar Heels fell to Oregon 28-27 in a Holiday Bowl final, their fourth straight loss to close the season.
Brown met with reporters Monday at the Kenan Football Center to effectively introduce the nine newcomers UNC added through the NCAA's transfer portal. He also answered other questions and was questioned directly by Inside Carolina if he wants to make changes to his defensive coaching staff.
"I want to win," Brown said in response. "I want to win every game, with really nice kids being naughty on Saturday afternoons and all graduating. That's what I want to do. I want to win every game. I don't want to win nine games, that's not why I came back. And I told them all last night. We are so close. Why not take another step?
"My job is to figure out what I need to do, what the coaches need to do, to take another step. Should I change coaches? Everyone always wants to fire a coach. Is this the right thing for us to do right now? I have to make these decisions, no one else, and I have more information than anyone else.
It's been 12 days since UNC's narrow loss to 15th-ranked Oregon in the Holiday Bowl when the Tar Heels performed well on defense without four starters but ultimately couldn't hold a lead of 24-14 in the fourth quarter.
Quarterback Bo Nix and the Ducks had two touchdown passes in the final nine minutes of the game to rally for victory. Nix's touchdown pass to fourth-placed Chase Cota with 19 seconds left and Oregon kicker Camden Lewis' extra run conceded on the post provided the final margin and undoing of what UNC had built that night of December 28 at Petco Park in San Diego.
UNC went through a coaching rotation cycle earlier in December when offensive coordinator Phil Longo left for the same position in Wisconsin and took offensive line coach Jack Bicknell Jr. with him to join the new staff. of the Badgers under Luke Fickell. Brown hired Central Florida offensive coordinator Chip Lindsey to replace Longo, and former North Texas offensive line coach Randy Clements to fill Bicknell's position.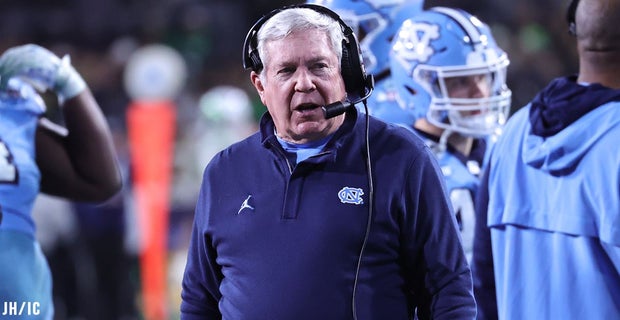 As the Tar Heels charged after the bowling game at the San Diego Padres ballpark, Inside Carolina asked Brown after his official postgame press conference ended if he planned to make any coaching changes on the defensive side of the ball. He said he would visit Chizik on this and more when UNC meets as a team Jan. 6 (Friday of last week) in Chapel Hill.
"I'm going to sit down with Gene and get his opinion," Brown said, minutes after the bowling game, "and then I'm going to sit down with each coach individually and go through the process, and see what I think about that time."
Defensive line coach Tim Cross has been the target of some UNC fan displeasure as the Tar Heels quarterback's sack count has dried up over the past two seasons. UNC finished ninth in the ACC in sacks in 2021 and dropped to last among the league's 14 teams in that category this season, with just 17 sacks in 14 games. Nationally, only South Florida, BYU and Colorado have produced fewer sacks per game this season than UNC's average of 1.21 per game, which ranked the Tar Heels 128th out of 131 teams. at the FBS level.
Inside Carolina sources on Holiday Bowl night were skeptical that Brown would fire Cross, in part because of potential player departures that might result from such a move. Cross is one of the most popular coaching staff assistants among UNC players, sources said. The NCAA Winter Transfer Portal window closes on January 18.
Brown brought Chizik back to the UNC program around this time last January to address issues that marked the end of former defensive coordinator Jay Bateman's three seasons on the job. The Tar Heels finished last in the ACC in total defense last season, giving up a league-worst 436.5 yards per game and 6.1 yards per play. Numbers in those categories have been hard to improve on after UNC gave up 649 total yards to Appalachian State in their wild 63-61 shootout win in Game 2 of the season.